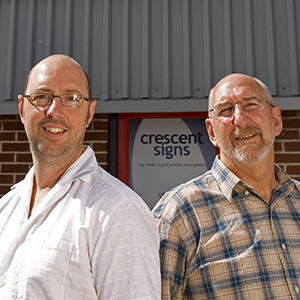 Welcome to Crescent Signs
Sign Makers | Digital Printers | Engravers
Crescent Signs is a well-established, family-run business providing a complete sign making, engraving and digital printing service.
Established in 1981, we have built up over a 40 year reputation for high quality workmanship and a first class service, whether you are an individual, small business or large corporate company.
We employ a team of talented individuals with skills that range from traditional engraving to the latest computerised design systems.
We pride ourselves on offering our customers everything from initial design to installation and maintenance; enabling us to be reactive to last minute changes and to produce exceptional quality signage in very short time frames.